ABC's of the Christmas Gift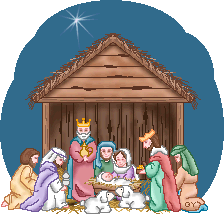 A star appeared in Bethlehem and

Beaming bright with light




Carried news to distant kings who

Departed for the sight. And




Even unto shepherds in

Fields tending their sheep




God sent angels singing,

"Hark now! The infant sleeps!"




In haste they ran rejoicing and

Just in time they saw. The




King of Kings born lowly

Laid in a bed of straw.




Mary's mind was racing

No man could comprehend.




On all these things she wondered and

Pondered in the end.




Quietly the Savior came

Redeeming man from sin




Setting free the captives

To live and love again.




Unto us a Son is given and

Very sure the sign. That




Wise on earth still seek Him

(e)Xalting Him through time.




Yet even to the humble, a sinner such as I,

Zion! Precious Zion! A gift from God Most High!

A Poem by Cindy Blackamore
December~1998